Change is the only constant!
That's the one thing mankind has been taught, ever since. The scenarios in the digital world are no different. To survive, one must accept and evolve with the changes (or the updates, might I be specific). A virtual business needs to take into consideration numerous trends and digital marketing updates to survive the tough competition, irrespective of its size.
Every once in a while, the industry witnesses the new updates rolling out. Sometimes it is an algorithm update for a web browser, the other times it could be an addition to some previous feature (in an application or a website). A significant reason for introducing new updates, time and now, is to improve user experience and attract new users, of course.
The end of 2021 marked an upgrade for several platforms. With the year close by, a handful of application updates rolled out. Now 2022 is the new dawn of the digital marketing world. With only 2 months gone by, so many updates have already rolled out. Not to mention, countless others are in the queue. The leading digital platforms have introduced some pretty interesting digital marketing updates in 2022.
For instance, there's this Instagram update for multiple feeds. Then we have an advanced search option rolling out on Twitter. LinkedIn's audio rooms are just as worth it. For unbeknownst, Digital Danish brings forth the 27 latest digital marketing updates in 2022. So, tune in to read on.
Top Digital Marketing Updates in 2022
Now that we are talking about the 27 Latest Digital Marketing Updates in 2022, we shall start with the ones that are seemingly getting more attention. Let's get started with the in-test ones and newly rolled out updates within the Instagram app. Thereafter, we shall discuss the soon-to-be rolled-out updates of other leading digital platforms including Twitter, LinkedIn, Facebook, and Google.
1. Instagram Starts Testing on Algorithm-Free and Reverse-Chronological Feed Option (within the app)3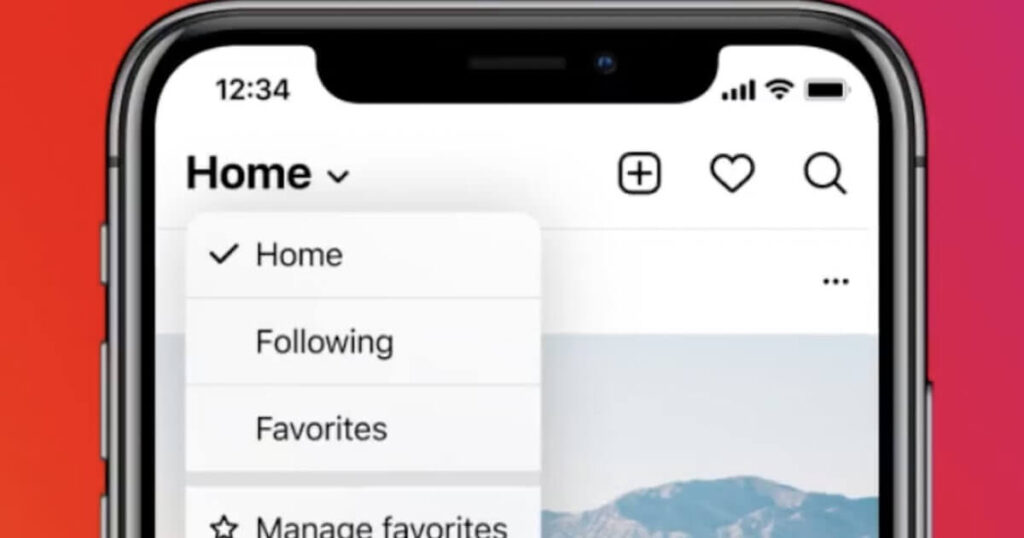 Last year, Instagram announced that we can expect some significant updates within the application. The platform has finally started the testing of its algorithm-free and reverse-chronological feed option. Adam Mosseri, the head of the Instagram platform shared the news. He also posted a video specifying (highlighting) the options to be available in the algorithm-free feed.
Adam stated that the to-be rolled-out update within the app will help users have better control over the posts on their feed. It will provide the users with three distinct views of their Instagram Feed. Two of the three views will be in chronological order. Here are the three Instagram Feed views:
Home: This view is the usual feed of Instagram posts. It will include posts, content, and profile recommendations befitting the user's current content consumption.
Favorites: The Favorites view shall display the contents of the profiles that you have added to your ' favorites list'.
Following: This view will show you the contents only from the profiles that you follow. No additional content or recommendation shall be displayed in this view.
Over time, the update will increase recommendations on the Home feed, said Mosseri. He stated that the platform aims to optimize content discovery besides attracting high user engagement. Whenever rolled out, the update will surely help users choose what they see on their Instagram feed. So, this testing by Instagram might prove to be one of the key digital marketing updates in 2022.
2. Twitter Begins Testing Advanced Search Tools (for DMs, full-screen and visual reactions for tweets)
The next update platform on our list is Twitter. Twitter is indeed on a feature-testing spree. There are so many tests lined up in the queue. And we can expect several important updates rolling out in the coming months. The two key updates you can look forward to including the advanced search tools and full-screen, visual reactions for the tweet. So, let's get started.
Advanced Search Tools for DMs (Direct Messages)
In 2019, Twitter introduced a search update. It enabled the users to search for people/groups based on the usernames. By starting the tests on advanced search tools for direct messages, the microblogging site aims to allow users to search for DMs.
When introduced, the Advanced Search Tools will enable users to search for DMs (by using specific keywords or mentions). This shall streamline and enhance the search process in DMs.
Full-Screen, Visual Reactions for Tweets
Twitter is also running tests on introducing an option to react to tweets using full-screen visuals. It will involve using a full-screen video or image to respond or react to the tweets. The update is currently being tested live on iOS. The users will have to choose the 'Quote Tweet with Reaction' option to engage with a tweet. This shall avail users with an option to engage with, respond to, and customize tweets.
Besides the aforesaid, Twitter is also testing an update for a text editor for comments.
3. Twitter Running Tests for Topic Bar and Tweet Composer
Every virtual platform aspires to align its services with the latest trends worldwide. Twitter is no different. The microblogging platform is in full swing to introduce new updates and features for its users. Read about Twitter's latest digital marketing updates in 2022.
Topic bar and tweet composer are amidst the key tests that Twitter is running.
Topic Bar to-be Placed Above the main Timeline
The topic bar displays an array of topics that might interest the users. Twitter is running tests to place the Topic Bar above the main timeline. This will facilitate the general discovery of relevant tweets across the platform.
New Placement for the Tweet Composer
The microblogging platform is working on tests to add a new placement for the Tweet Composer (on the main feed. The update will place the Tweet Composer at the bottom of the main feed. The users can tap on the button and start composing their tweets.
The new update will replace the '+' compose button at the bottom right corner feed. It will make tweet composition quick and easy.
4. Twitter is Testing Options to Limit Spaces Access to Select Groups
Yet another significant digital marketing update in 2022 could be the 'Limitation of Spaces Access'. Twitter is testing the option on Spaces. It will enable users to limit access to their spaces. You can limit the access of your Spaces sessions to the specific audience (of your choice). The update will provide three options:
Anyone can join
People you invite
Tweeps only (your followers)
5. LinkedIn Introduces Testing Audio Rooms
The past few years have been a rollercoaster ride for LinkedIn. The platform has witnessed phenomenal growth. The platform introduced an array of new updates and features in 2021. The purpose, of course, was to enhance the user experience.
While the leading social media platforms are investing in audio social, LinkedIn is not far behind. That being said, the platform is testing several new features. In its effort to offer more, LinkedIn has launched the testing of its audio. The update is similar to Clubhouse's audio rooms and Twitter's Spaces. The speakers appear on the top section while the listeners appear below.
6. Testing Started for New Format of Live Events: LinkedIn
While the global pandemic plays a hurdle in conducting physical events, live platforms have been our rescuers. The last two years have witnessed a rocketing growth in the number of live social platform events. With that established, LinkedIn is running tests to roll out a new format for live video events.
According to LinkedIn, they have a professional context to recommend the events that assist in learning, networking, and reaching career goals.
7. Facebook's New Addition: Story Highlights and Timeline View for Posts (on Creator Studio)
Every time it comes to the leading social media platforms, Facebook tops the list. Recently, FB added two additional features to its Creator Studio Platform. They are – Story Highlights and Timeline Views. Let's read on to know what these newly rolled out Digital marketing updates in 2022 elaborate.
This update allows you to add a small portion of your video content to your story. This will drive 'watch full video' CTA. Creator Studio will show you the video portion you highlight on your story. As per your requirements, you can choose and edit any particular part of the video content to highlight. You can also add a 'See More' CTA to your story highlight.
Facebook has also added a new 'Timeline View' for the posts that you have published via Creator Studio. This update will provide you with a view of how your posts/contents will look in the users' feed. The idea is to help you optimize your posts for aesthetic view.
8. Google to Launch New Format for Visual Stories
Just as any other social media platform, Google too is trying to offer more than the best to its users. Google intends to make its platform more user-friendly. To accomplish its goal of enhanced user engagement and user-friendliness, Google has already introduced so much. It has offered Google Discover, Google Stories and so much more.
That being said, Google has also secured a rank in the latest digital marketing updates in 2022. The leading search engine platform is running a test on new layouts for the visual stories on search. Unlike the usual two-pack layout, Google is working with three and four-pack layouts besides the carousel format.
You can keep your expectations high on the upcoming updates from Google.
9. Google is Testing New Look for Trending Searches (on Discover and Home Page)
When it comes to making the platform more aesthetic and appealing, there's no stopping for Google. Presently, the search engine platform is testing out a new look for the Discover and Home Page. The new format is mainly for the 'Trending Searches' section on Google Discover and Home Page on mobile phones.
Reports are that the new format consists of the search phrases embedded into the bubbles with a 'trending sign' next to them (bubbles). Several users have suggested seeing the updated design on their devices. However, the users state that the trending searches listings are also available.
10. Read Full Answer' button in People Also Ask Section in Testing: Google
The 'People Also Ask' section of Google is one of the most-visited parts of any search engine result page (SERP). Recently, netizens have spotted a new change in the section. A user in Germany spotted new testing of Google. Google appears to be testing out the 'Read Full Answer' option in the People Also Ask section of the SERP. When clicked on, the 'Read Full Answer' button unfolds the full answer within the section.
This update will help the users access relevant content without having to visit multiple URLs. Once rolled out, this new update from Google can be a great development.
Other Latest Digital Marketing Updates in 2022
Having discussed the best of 27 latest digital marketing updates in 2022, let's have a glance at other important updates that have (or are to-be) rolled out this year. Our list starts with the updates planned by META. For the uninformed, let us start by briefing you about META.
The parent company, Facebook has changed its name to META (from metaverse). The metaverse combines augmented reality with the digital world. The prime focus of META is to move ahead and increase social and business engagement.
Coming back to the topic, i.e., 27 Latest Digital Marketing Updates!
We've already discussed the top 10 updates, now let's move ahead into discussing the other digital marketing updates. Not to mention, global digital marketers are eager to work with these updates.
META to update Instagram DMs and private messages on Messenger for user safety.
New Trends Insight – A New Addition on Creator Studio.
Facebook Rolls Out Professional Profiles.
AR effects and Automated Bill-Splitting – A New Feature on Messenger.
Facebook launches new tools for live-stream creators.
Instagram introduces an Option to reply to post comments with reels.
Dancify – an option to sync A/V on Reels: Instagram.
Instagram introduces an option to add custom texts to Link Stickers.
WhatsApp Messenger Adds an auto-delete option for chat threads.
Twitter actively tests the full-screen display format for the explore section.
Twitter is testing the self-reporting option for tweets with sensitive media.
LinkedIn has introduced New Tools (LinkedIn Live and Newsletter) to 'Creator Mode'.
Google launches Insurance and Language Section for healthcare providers profile on Google My Business.
Google to Show Local Language Content (based on the location of the user).
Google Merchant has launched the New Competitive Report.
Google releases a new look for Top Stories on Desktop/PC.
Google testing out a new design for Suggested Clips on Features Snippets.